19-year-Old Artist With Autism
Do we consider this slight variation a disorder? This is something we need to think about! Is it a disorder or just neuro-diversity? Typically, Autism develops as a child grows. People discover signs of Autism as early as 12months in an infant. Often even earlier in a child. Lets have a look on this week headline.
19-year-Old Artist With Autism From Pune Paints His Vision Of Freedom In Honour of 'Azadi Ka Amrut Mahotsav'
Pune, August 8, 2022: Devansh Maurya, a 19-year-old autistic artist from Atypical Advantage, painted his idea of freedom on Pepperfry, India's biggest furniture retailer, on August 4th to commemorate the completion of 75 years of independence.
Devansh Maurya, a 19-year-old artist, was given a severe autism diagnosis at the age of two. His works were recently on display at the Geneva Center for Autism's Virtual Symposium 2020. His artwork provides him with the ultimate serenity and comfort.
Dentist in Bengaluru tosses his four-year-old daughter off a fourth-floor balcony while pretending to want to terminate her life.
The accused was unhappy because the child, who had a speech problem for two years, was taking medication.
On Thursday in Sampangiramanagar, a lady allegedly tossed her four-year-old daughter from the fourth storey of their apartment building and then pretended to have tried to kill herself.
However, the CCTV camera in the apartment recorded the entire episode, and after further investigation, the police detained the suspect, Sushma Bharadwaj, and charged her of murder.
Lack of infrastructure and awareness prevents almost no RTE compliance, keeping disabled children out of schools.
Akhilesh Tiwari has been attempting for the past five years to enrol his son Atharv, a 9-year-old with Cerebral Palsy (CP), in a mainstream school in Mumbai. Atharv's mother tutors him at home, despite the fact that he should be in Class 4 right now.
Atharv's father asserts that he first contacted the government-funded St. Joseph School in Vikhroli when doctors advised enrolling him in a regular school. Father Sachin Lopez, the principal of the school, refused to enrol Atharv despite my repeated requests, citing a variety of reasons, claimed Akhilesh.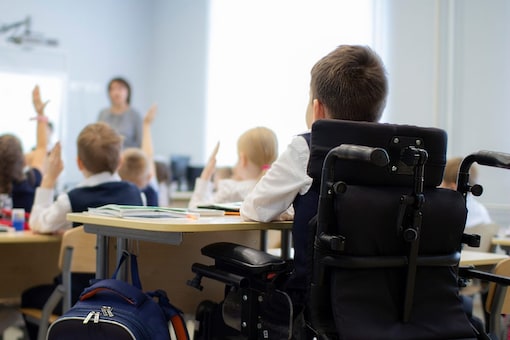 Adults with autism are equally adept at identifying the emotions of others as those without autism, according to a study.
The ability of autistic people to distinguish between accurate and wrong recognition answers was comparable to that of non-autistic people.
The majority of earlier research, which frequently used small samples, concentrated on the forced-choice recognition response accuracy for static face displays of fundamental emotions.
The researchers used 12 face emotion – anger and sadness – stimuli presented in three different stimulus forms (static, dynamic, and social) that altered the amount of supporting contextual information to assess emotion recognition in IQ-matched autistic (63) and non-autistic (67) adult samples. The range of IQs was 85 to 143.
Explanation of the current amendment and the safeguards for passengers with disabilities on flights
Following the uproar over IndiGo Airlines' handling of a youngster with special needs, the regulations governing air travel by people with disabilities have been changed.
The new rules make it clear that an airline cannot refuse a customer boarding on the basis of their disability. However, if the airline believes the passenger's health could deteriorate while in flight, it would need to get a medical opinion specifically specifying the patient's medical condition. If not, a written explanation of why must be provided.
Kerala's government is urged by the HC to reconsider a college for the deaf.
The Kerala High Court stated that the state's charitable organization's request for approval of an aided college for the hearing impaired "cannot be allowed to fall on deaf ears" and ordered the LDF government to reexamine its position on the matter of setting up aided institutions.
Early intervention centre opens at Command Hospital
To address several facets of a child's handicap and ensure the optimum outcome, the centre assembles clinical psychologists, occupational therapists, physiotherapists, speech therapists, special educators, nutritionists, and paediatricians.
"Nearly 10% of the 27 million infants born in India each year have a disability, birth defect, or developmental delay that could cause them to have major disadvantages later in life. Early discovery of these issues and prompt action may reduce handicap and aid in the affected child's full development. According to a notification from the defence department, the centre has established early intervention centres in each district and created Rashtriya Bal Swasthya Karyakram (RBSK) in accordance with this concept.
Pay Autism collaborates with neighbourhood anganwadis to raise awareness of Autism in Trombay
The goal of the initiative is to build a network of advocates who can recognise the early indications of autism in toddlers, explain to parents the need for a diagnosis in a sensitive and professional manner, and assist them in understanding the significance of early diagnosis, intervention, and multidisciplinary interventions.
Mumbai: In keeping with Tata Power's overarching CSR vision of "Powering Transformation Pay Attention," the company launched India's first online autism support community in partnership with The Centre for Autism and Other Disabilities Rehabilitation Research and Education. The goal of the initiative was to strengthen the autism support community by raising awareness of autism spectrum disorder (ASD) and assisting others in understanding, accepting, and supporting both people with autism and their families.
11-year-old creates business, fights autism stigma
At the age of four, JW received an autism spectrum disorder diagnosis.
In reality, he was unable to carry on a discussion at that point. He could utter a few words, but he was unable to respond to a complex inquiry, according to JW's mother Amy Hardin.
JW is now a bubbly, communicative 11-year-old…and an entrepreneur, thanks to a lot of time, treatment, and travel.
He came to us and expressed a desire to start his own business, and Amy explained that because she understood what it was like to be unable to hear him speak, she attempted to support whatever initiative or idea he had.
Latest posts by Varsha Srivastava
(see all)